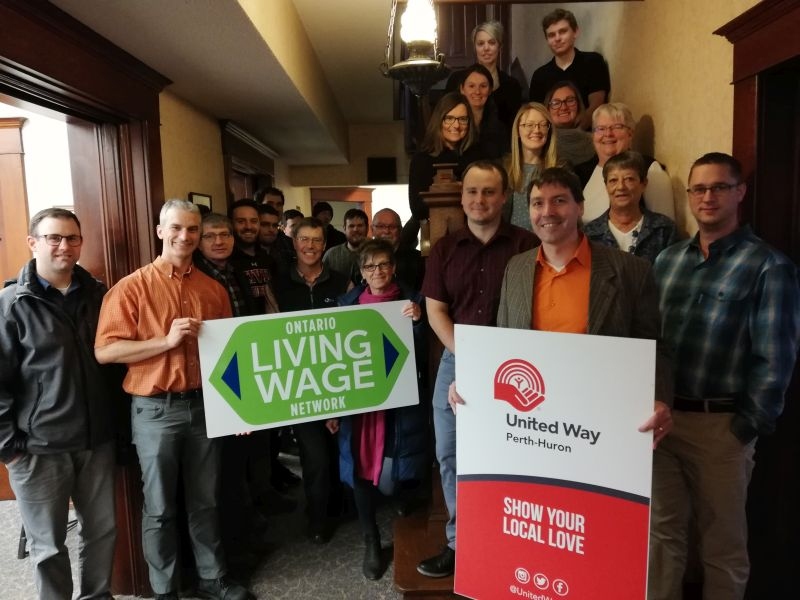 GODERICH, ON - B. M. Ross and Associates Limited (BMROSS) are celebrating a local achievement. They are the latest company to certify as a Living Wage Employer in the champion category.
"BMROSS recognizes that paying a Living Wage constitutes a critical investment in the long–term prosperity of the economy by fostering a dedicated, skilled and healthy workforce in our communities," says Andrew Ross, President of B. M. Ross and Associates Limited. "By certifying as a Living Wage Employer, BMROSS is offering a challenge to similar professional service businesses in the communities where we work."
Now calculated annually by the United Way Perth-Huron's Social Research and Planning Council, the Living Wage is a calculation based on the living expenses of a family of four with both adults working full-time for 35 hours a week, once government transfers and deductions are taken into account. Everyday expenses included in the calculation are food, housing, utilities, childcare and transportation. Perth-Huron Counties' Living Wage is $17.55 per hour. More information about Perth-Huron's Living Wage can be found at http://perthhuron.unitedway.ca
"Certified Living Wage employers like B.M. Ross and Associates Limited draw attention to the Living Wage conversation in our communities," says United Way Perth-Huron Executive Director Ryan Erb. "By receiving a Living Wage, employees are enable to participate in their society and gives them opportunities to contribute to and define our communities. BMROSS is demonstrating a real commitment to their team and our communities by becoming a Living Wage champion."
About B.M. Ross and Associates Limited
B. M. Ross and Associates Limited is a company of Professional Engineers and Planners that provides consulting and design services for civil infrastructure to municipalities, government agencies and private corporations throughout southwestern Ontario. Founded in Goderich in 1951, BMROSS has expanded to offices in Mount Forest and Sarnia and is the largest private employer in the Goderich B.I.A. For more information on B. M. Ross and Associates Limited, please contact Andrew Ross, President at 519-524-2641 ext.210 or @email.
About United Way Perth-Huron
UWPH is a 100% local organization working to address #UNIGNORABLE issues like poverty, homelessness and mental health in our communities. Thanks to United Way and people across the region, over 32,000 of the most vulnerable in Perth and Huron Counties have a brighter future. To show your #LocalLove by donating or volunteering, call 519-271-7730 or 1-877-818-8867, mail to 32 Erie Street, Stratford, ON N5A 2M4 or visit perthhuron.unitedway.ca